Erhard Haus 1926 – 2013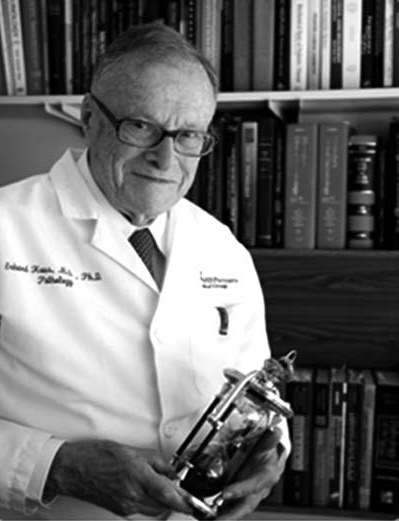 A pioneer and leading authority on chronobiology
Erhard Haus M.D., PhD. is certainly one of the world's greatest scientists who fundamentally help shape chronobiology. He is one of a handful of scientists who achieved great international recognition at a young age and will always be remembered with esteem by his colleagues around the world. Many scientists and friends will remember his always stimulating, interesting and so lively lectures, and still have his great oratory and voice in their ears. He was knowledgeable beyond belief and was familiar with virtually every study in chronobiology: through his immense determination, Erhard Haus exhausted himself in tireless work to complete a large body of work during his lifetime. This work will continue to define science for a long time to come. In addition to his scientific achievements, he was an extraordinarily kind human being. The "Biological Rhythms and Wellbeing Lab" is dedicated in his honour.
---
Biography
Dr. Erhard Leo Anton Haus was born in Vienna, Austria in 1926. He was the grandson of Anton Haus, the last Grand Admiral of the Austrian-Hungarian Empire. He earned his M.D. in Internal Medicine from the University of Innsbruck, Austria. In 1958, he emigrated to the U.S., specialized in Pathology and earned a PhD in Pathology/Physiology from the University of Minnesota Chronobiology Laboratory under the direction of Franz Halberg. He worked his way from Instructor in the Department of Pathology at the U of M to Full Professor of Medicine. He joined the Pathology staff at St. Paul Ramsey Medical Center (now Regions Hospital) in 1966 and subsequently headed the department for 34 years. He traveled the world as a highly sought after author, editor, educator, mentor, and lecturer. He was also a beloved husband, father of nine, grandfather of 26 and great-grandfather of one (now 7). Erhard was a pioneer and leading authority on chronobiology who conducted more than 520 projects involving his Hospital team and collaborators throughout the world. He edited 3 books and authored/co-authored 67 book chapters, over 260 journal articles, and more than 300 abstracts. He was the first to demonstrate the concept of chronotoxicology (susceptibility/resistance rhythmicity to ethanol overdose), and thoroughly researched the chronobiology of therapeutic agents (chronopharmacology/chrono-therapeutics), the endocrine system, cancer risk and therapy, diagnostic clinical laboratory measures (time-qualified reference values), nutrition/obesity (chrononutrition), cardiovascular disease (chronocardiology), among others, plus synchronizers of circadian rhythms and circadian desynchronization and its consequences. Erhard founded and served as president of the American Association for Medical Chronobiology and Chronotherapeutics and chaired for the World Health Organization the Section on Mechanisms of the International Agency for the Research on Cancer (IARC), Working Group on the Evaluation of Carcinogenic Risks to Humans in Painters, Fire Fighters, and Shift Workers, addressing the risk of shift and night work, in conjunction with light-at-night exposure, for development of breast, prostate, and other cancers.
---
Selected Publications
Haus E, Cornelissen G, Halberg F. Introduction to chronobiology. In: Scheving LH, Halberg F (eds). Chronobiology Principles and Application to Shifts and Schedules. NATO Advanced Study Institute, Series D, Sijthoff, Int Publ, Leiden, Netherlands, 1980, p 1 32.
Haus E, Lakatua DJ, Swoyer J, Sackett Lundeen L. Chronobiology in hematology and immunology. Am J Anat 1983, 168(4): 467-517.
Haus E, Kabat H (eds). Chronobiology 1982 1983. Karger Publishing, New York, 1984, pp 574.
Haus E, Nicolau GY, Lakatua D. Sackett-Lundeen L. Reference values for chronopharmacology. Ann Rev Chronopharm, Pergamon Press, 1988, 4: 333-424.
Haus E, Nicolau G, Lakatua DJ, Sackett-Lundeen L, Petrescu E. Circadian rhythm parameters of endocrine functions in elderly subjects during the seventh to the ninth decade of life. Chronobiologia 1989, 16(4): 331-352.
Haus E, Cusulos M, Sackett-Lundeen L, Swoyer J. Circadian variations in blood coagulation parameters, alpha-antitrypsin antigen and platelet aggregation and retention in clinically healthy subjects. Chronobiol Int 1990, 7(3): 203-216.
Haus E, Cusulos M, Sackett-Lundeen L, Swoyer J. Circadian variations in platelet functions and blood coagulation parameters. Ann Rev Chronopharmacol 1990, 7: 153-156.
Haus E, Nicolau GY, Lakatua DJ, Sackett Lundeen L, Swoyer J. Circadian rhythms in laboratory medicine. In: Fanfani M, Tarquini B (eds). Reference Values and Chronobiology. XV World Cong of Anatomic and Clinical Pathology. Arand and Brent, Florence, 1990, p 21 33.
Touitou Y, Haus E (eds). Biologic Rhythms in Clinical and Laboratory Medicine. Springer Verlag, Berlin, Heidelberg 1992, pp 730.
Haus E, Nicolau GY, Lakatua DJ, Sackett-Lundeen L, Petrescu E, Swoyer J. Chronobiology in laboratory medicine. Ann Ist Super Sanità 1993, 29(4): 581-606.
Haus E. Biologic rhythms in hematology. Pathol Biol 1996, 44(7): 618-630.
Haus E, Lakatua DJ, Sackett-Lundeen L. Circannual variation of cell proliferation in lymphoid organs and bone marrow of BDF1 male mice on three lighting regimens. Chronobiol Int 1997, 14(4): 347-362.
Haus E, Touitou Y. Chronobiology of development and aging. In: Redfern P, Lemmer B (eds.). Handbook of Experimental Pharmacology: Physiology and Pharmacology of Biologic Rhythms. Springer-Verlag, Heidelberg, 1997, p 95-134.
Haus E, Lakatua DJ, Sackett-Lundeen L, Dumitriu L, Nicolau G, Petrescu E, Plinga L, Bogdan C. Interaction of circadian, ultradian, and infradian rhythms. In: Touitou Y (ed). Biological Clocks, Mechanisms and Applications. Elsevier Science, 1998, p 141-150.
Haus E. Chronobiology of the Immune System. In: Military Strategies for Sustainment of Nutrition and Immune Function in the Field. National Academy Press, Washington, D.C., 1999, p 437-496.
Haus E, Smolensky MH. Biologic rhythms in the immune system. Chronobiol Int 1999, 16(5): 581-622.
Haus E, Dumitriu L, Nicolau GY, Bologa S, Sackett-Lundeen L. Circadian rhythms of basic fibroblast growth factor (bFGF), epidermal growth factor (EGF), insulin-like growth factor-1 (IGF-1), insulin-like growth factor binding protein-3 (IGFBP-3), cortisol and melatonin in women with breast cancer. Chronobiol Int 2001, 18(4): 709-727.
Haus E. Chronobiology of the mammalian response to ionizing radiation. Potential applications in oncology. Chronobiol Int 2002, 19(1): 77-100.
Haus E, Smolensky MH. Development of the Circadian Time Structure and Blood Pressure Rhythms. In: Portman RJ, Sorof JM, Ingelefinger JR (eds). Pediatric Hypertension, Humana Press Inc, Totowa, NJ, 2004, p 45-73.
Haus E, Smolensky MH. Biological Clocks, Shift Work and Circadian Dysregulation and Potential Long-Term Effects. Cancer Causes Control, 2006, 17: 489-500.
IARC Working Group on the Evaluation of Carcinogenic Risks to Humans. II. Series. WHO International Agency for Research Group (IARC) Monographs on the Evaluation of Carcinogenic Risks to Humans; Volume 98. Painting, Firefighting, and Shiftwork [1. Circadian Rhythm 2. Fires 3. Occupational Exposure 4. Neoplasms – etiology 5. Paint – Adverse Effects 6. Work Schedule Tolerance], (Meeting 2007: Lyon, France). International Agency for Research on Cancer, Lyon, France, 2010, pp 818.
Smolensky MH, Siegel RA, Haus E, Hermida R, Portaluppi F. Biological Rhythms, Drug Delivery and Chronotherapeutics (Chapter 13). In: Siepmann J, Siegel RA, Rathbone MJ (eds). Fundamentals and Applications of Controlled Release Drug Delivery. Advances in Drug Delivery Science and Technology. Springer, 2012, p 359-443.