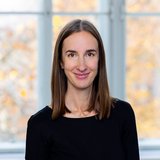 Susanne MAYER joined the Department of Health Economics in June 2014.
Susanne holds a PhD in Economics and master's degrees in Economics and Socio-Economics from the Vienna University of Economics and Business (WU). During her master's studies, she spent an exchange term at McGill University in Montreal.
Prior to this appointment, Susanne worked at the Institute for Social Policy at the WU as well as for the team HealthEcon at the Institute for Advanced Studies (IHS). Her previous work experience includes investigations into the medical outpatient sector, pharmaceutical supply, organization of formal long-term care and informal care for the elderly.
Currently, Susanne teaches and supervises at the Medical University of Vienna. Her research interests and projects include economic evaluation, costing (unit costs) of health and social care services and inter-sectoral costs and benefits and socioeconomic gradients in health care use and health-related behaviour. Susanne has methodological expertise in costing, economic evaluation, quantitative research and qualitative research methods. Susanne, who has been associate professor at the Medical University of Vienna since December 2018, previously also researched abroad at Maastricht University and the London School of Economics and Political Science, and has received several national awards for her research.
Publications:
https://www.researchgate.net/profile/Susanne-Mayer-2
MedUni Vienna Courses:
https://campus.meduniwien.ac.at/med.campus/ee/ui/ca2/app/desktop/#/slc.tm.cp/student/courses?$ctx=design=ca;lang=de&$skip=0&objTermId=142&orgId=1&q=mayer,%20susanne
Grant info:
Post-COVID-19 Care: Medical Humanities and Health Economics (Medical University of Vienna/University of Vienna, 2022-2025)
MUV Researcher Profile:
https://www.meduniwien.ac.at/web/forschung/researcher-profiles/researcher-profiles/index.php?id=688&res=susanne_mayer