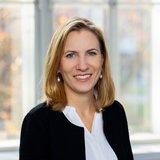 Margit LEEB joined the Department of Health Economics in May 2017 as Administrator for Teaching and Research.
Prior to this role she worked in Human Resources with a focus on Personnel Development and Recruiting. Her special interest in Public Health has developed and grown throughout the different stages of her career. After obtaining her Master's degree in Communications from the University of Vienna, Margit held positions in academic and private sector organisations.
She spent five years in Cambridge (UK) where she completed a Master of Arts in Human Resource Management at Anglia Ruskin University. Thereafter she worked for the National Health Service. Her experience as both NHS employee and patient in two different health care systems have sparked her interest in Public Health and Health Economics.