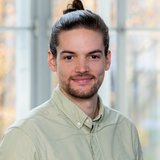 Daniel HEILIG joined the Department of Health Economics as a postgraduate researcher and doctoral researcher in June 2021. He works on the ERA PerMedSchiz project.
He holds a MSc in Socioeconomics from the Vienna University of Economics and Business (WU) where he focused on sustainability and health economics. His master thesis examined the impact of a medical support institution for homeless EU-citizens in Vienna. He also holds a BSc in Economics from University of Mannheim where he focused on structural change in developing countries. Furthermore, he studied economics in Kansas City, USA and Medellín, Colombia during study exchanges.
During his Masters, Daniel also worked at the NPO Competence Center at the WU, where he gained research experience as a part of the Interreg-SIV project and an impact analysis of a mobile hospice care service in Vienna. He conducted qualitative and quantitative evaluation research and the method of social return on investment (SROI) analysis.
MUV Researcher Profile:
https://www.meduniwien.ac.at/web/forschung/researcher-profiles/researcher-profiles/index.php?id=688&res=daniel_heilig